Blum Center | News & Announcements
FILM SCREENING AND DISCUSSION: No Más Bebés (No More Babies)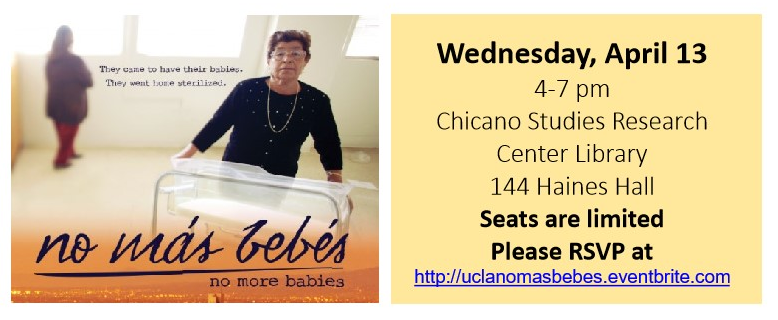 ---
Join us for the UCLA premiere of the critically acclaimed documentary No Más Bebés, which tells a story of a small group of Mexican immigrant women who sued county doctors, the state, and the U.S. government after being sterilized at Los Angeles County-USC Medical Center during the late 1960s and early 1970s.
A Q&A with filmmakers Renee Tajima-Peña (producer/director, and director of the Center for EthnoCommunications at UCLA) and Virginia Espino, PhD (producer) will follow the screening, moderated by members of the UCLA Reproductive Health Interest Group.
This is the first event in a three-part symposia series co-sponsored by The UCLA Chicano Studies Research Center, The UCLA Blum Center on Poverty and Health in Latin America, and the UCLA Kaiser Permanente Center for Health Equity, supported by The UCLA Office of Interdisciplinary & Cross Campus Affairs.
To view the full flyer for this event, please visit: http://bit.ly/1PQQuoU