UCLA Blum Center Summer Scholars Program
---
Program Overview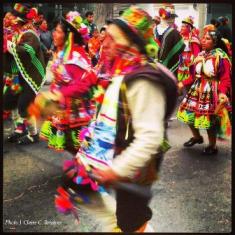 The UCLA Bum Center Summer Scholars Program is a unique opportunity for outstanding graduate students to live in
a region of Latin America and work with universities, international institutions or community organizations that are improving the health and social conditions faced by low-income and vulnerable populations in Latin America. UCLA Blum Summer Scholars support the development of specific community responses being implemented in Latin American communities faced with health threatening conditions of poverty and other social determinants of health. Both UCLA faculty members and representatives from host organizations in Latin America provide mentorship for participating students.
The application process for the 2014 summer Scholars Program is now open!
***Please view our announcement for details on how to apply***
---
2013 Inaugural Year UCLA Blum Center Summer Scholars Program
Graduate Program
In the inaugural program of the UCLA Blum Summer Scholars, two Fielding School of Public Health MPH students, Claire Bristow and Rebecca Foelber, were selected to spend their summers doing field research in Peru and Brazil, respectively.
Claire C. Bristow, MSc, MPH Student
Research: The social determinants of sexual health and HIV/syphilis rapid tests: diagnosis and prevention of adverse birth outcome in Lima, Peru.
Study Design: The study evaluated provider/patient acceptability of rapid tests and laboratory-based comparison of rapid tests with normal test protocols. One hundred participants were interviewed to assess social determinants of sexual health; differences / preferences in testing methods were analyzed.
Mentors: Latin America: Dr. Carlos Caceres, Professor of Public Health and Director of the University of Peru Cayetano Heredia Sexual Health Unit; and United States: Dr. Jeffrey Klausner, professor of Medicine, Division of Infectious Diseases and the Program in Global Health, Dr. Michael Rodriguez Professor of Family Medicine and Director of the UCLA Blum Center on Health and Poverty in Latin America.
Rebecca Foelber, DVM, MPH Student
Research: Data collection to inform measures to prevent food-borne diseases in Rio de Janeiro Brazil.
Study Design: This research collected and analyzed official data on food-borne disease incidences compiled by national epidemiological centers in Latin America and the Caribbean during the last 14 years. The research team compiled and analyzed the resulting international dataset and produced a final report for WHO / PAHO surveillance purposes.
Mentors: Latin America: Pan American Health Organization's Raymond Dugas, DVM, food safety adviser; US-based mentor: Cristina Tirado, DVM, MS, PhD, adjunct associate professor in Community Health Sciences, UCLA Fielding School of Public Health and food safety adviser at the Pan American Health Organization (PAHO), Dr. Michael Rodriguez Professor of Family Medicine and Director of the UCLA Blum Center on Health and Poverty in Latin America.

Undergraduate Students

In our 2013 inaugural year, the UCLA Blum Center supported undergraduate students working on community initiatives in Los Angeles designed to address the health needs of the most vulnerable low-income residents. during the eight-week session, students participated in a two-pronged program that included internships at Los Angeles-based community initiatives and civic engagement coursework. Undergraduate Summer Scholars Aldana Garcia, Jessica Cubias, and Abram Cerda served as interns at the Central American Resource Center (CARECEN) serving Latin American immigrant communities. Two more Undergraduate Summer Scholars, Erin Standen and Elizabeth Padilla, worked with the Saint John's Well Child and Family Health Center to support the needs of low-income populations.

To learn about each student's work as a UCLA Blum Center Undergraduate Summer Scholar, please click on their project tittles below to read their reports.
Abram Paul Cerda – Class of 2016
"Undocumented Students Framed in the Media"


Who are they? What do they face? Why are they portrayed negatively in the media? These were just some of the questions Abram wanted to explore through his internship. At CARECEN, he had the opportunity to interact with young students from various backgrounds. He learned, first-hand, of the many struggles undocumented students must overcome in order to survive using a new language in a different country and culture.



Jessica Esmeralda Cubias – Class of 2016
"What I learned, what I earned, and what I gave"


Jessica's project spoke to the factors in the community that affect student's performance in the classroom. From poverty of lack of resources to the family setting, Jessica analyzed the importance of the environment on a student's academic outcome. At CARECEN, she along with other two interns (Cerda, Garcia) came up with different methods of evaluating students aside from merely testing. This way, the students would not feel pressured to learn. Overall, they hope to have planted the seed for the love of learning.
Aldana Garcia – Class of 2016
"CARECEN and Early Childhood Development"


Why is Early Childhood so important? Aldana elaborated on this concept and the toll that poverty can have on Early Childhood Development (ECD). During her internship at CARECEN, she was able to take part in the children's development by providing an optimal learning environment in which they can grow. She also explored the Family Stress Model by Dr. Rashmita Mistry and the environmental factors that affect ECD.



Elizabeth Padilla – Class of 2016
"Childhood Obesity & St. John's"


Childhood obesity and its causes sparked Elizabeth's attention and study. Environmental factors affecting food choices and habits will continue to be an area Elizabeth will research to offer ways to make changes on individual, community, and policy levels. Her work with the community garden project at St. John's provided a tangible backdrop to the value of healthy food choices.

Erin Standen – Class of 2016
"Civic Engagement at St. John's Well-Child and Family Center"

From community outreach to meeting the "Guerilla Gardener", a.k.a. Ron Finley featured on TED talks, Erin reported participating in a robust set of activities. Most dramatically, Erin's research on food deserts and career future has been influenced by the summer's experience. She has narrowed her interest in health to be more focused on public policy affecting health among low-income populations.