Blum Center | News & Announcements
Touchdown Santa Fe, Mexico City
And so I've joined up with the UCLA Blum Center fellowships and landed in Centro de Investigación y Docencia Económicas, which Mexico affectionately knows as El CIDE. And though a certain yours truly may be tempted to associate this with El Cid—the famous if not niche medieval Spanish military leader—the structure of El CIDE is delightfully distinct from any potential Spanish imperialism that one might imagine upon the old Spanish empire capital's top research institute.
El CIDE was founded in 1974, first as a floating civil organization and then as a school built upon the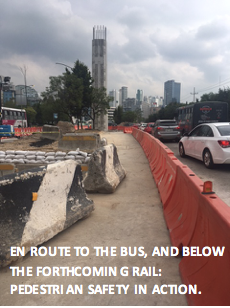 physical foundations of Mexico City College. At the time the site was on the way out of town towards the industrial city of Toluca, amidst mountainous topography and trees, you would more likely associate with northern California than Americans' typical images of Mexico. But in the last twenty years, enormous new luxury developments have grown up and blown up around CIDE. The broader area around CIDE—forever called Santa Fe and now recognized for its exorbitant land values—was largely reclaimed from its former status as a garbage dump, and built to provide a small-scale Mexican counterpart to Dubai or Shanghai. Massive malls and modular high rises are the norms, complete with all the world's fanciest brands. The result is an interesting negotiation by which much of the best research on economic inequality in Mexico comes out of an area known for unparalleled social stratification and a certain style of nouveau riche. It's a fun and funny neighborhood from which to study social inequality.
And so I—fiercely carless, haphazardly clueless—bumble and tumble out through this built environment. I climb up semi-forested embankments and then roll through perfectly polished kilometers of elegant shops wishing I had roller skates, romping through the specialty shops and gawking at the high prices. And then I hop back into the street, jog around town, slog into a Starbucks, and pop out some nice economic analysis. The sidewalks here disappear on a whim or open into 10-foot drops through manholes that could swallow you whole, no problemo. Buses roll through—schedules and fixed routes negotiable—and cars zoom up some arteries, choke 'n' crawl down others. There are pedestrians, to be sure, but several cars have already tried to help pick me up here: it's clear that I'm not from here, and so they stop and ask if they can help take me to wherever I'm supposed to be. "You know we have Uber here, right?"
All in all, it's a great place to study safety and equity in public transportation. So as the sun sets and my (sub)urban hike awaits me. I'm frogger, Lucille Ball, and the Three Stooges all rolled into one, and there's no way—and no place—I'd rather be.