News & Announcements
ZIKA VIRUS: An Emerging Pathogen
We are proud to present Dr. Karin Nielsen, MD Professor, Clinic Pediatrics, UCLA David Geffen School of Medicine; Director, Center for Brazilian Studies, UCLA Latin American Institute. Dr. Nielsen is the lead author of an article recently published in the New England Journal of Medicine showing that the Zika virus is responsible for many serious fetal abnormalities in addition to microcephaly.
Full story...
ECUADOR EARTHQUAKE VICTIMS BEING TREATED BY ANDEAN HEALTH & DEVELOPMENT HOSPITALS: Situation Worse than Originally Thought   
Three main hospitals in the Manabí area have been destroyed by the April 16th earthquake in Ecuador.    Andean Health and Development hospitals and staff in nearby provinces have not sustained damage and are treating earthquake victims in-hospital and in emergency community triage settings.  Health care staff are treating broken bones, blunt trauma, head trauma, crush injuries, and lacerations.  
Full story...
GloCal Health Fellowship Funding for HIV Research
The UCGHI GloCal Health Fellowship has additional funding available for the 2016-2017 fellowship year for postdoctoral fellows interested in conducting HIV/AIDS research at one of GloCal's 27 affiliated international research sites.
Full story...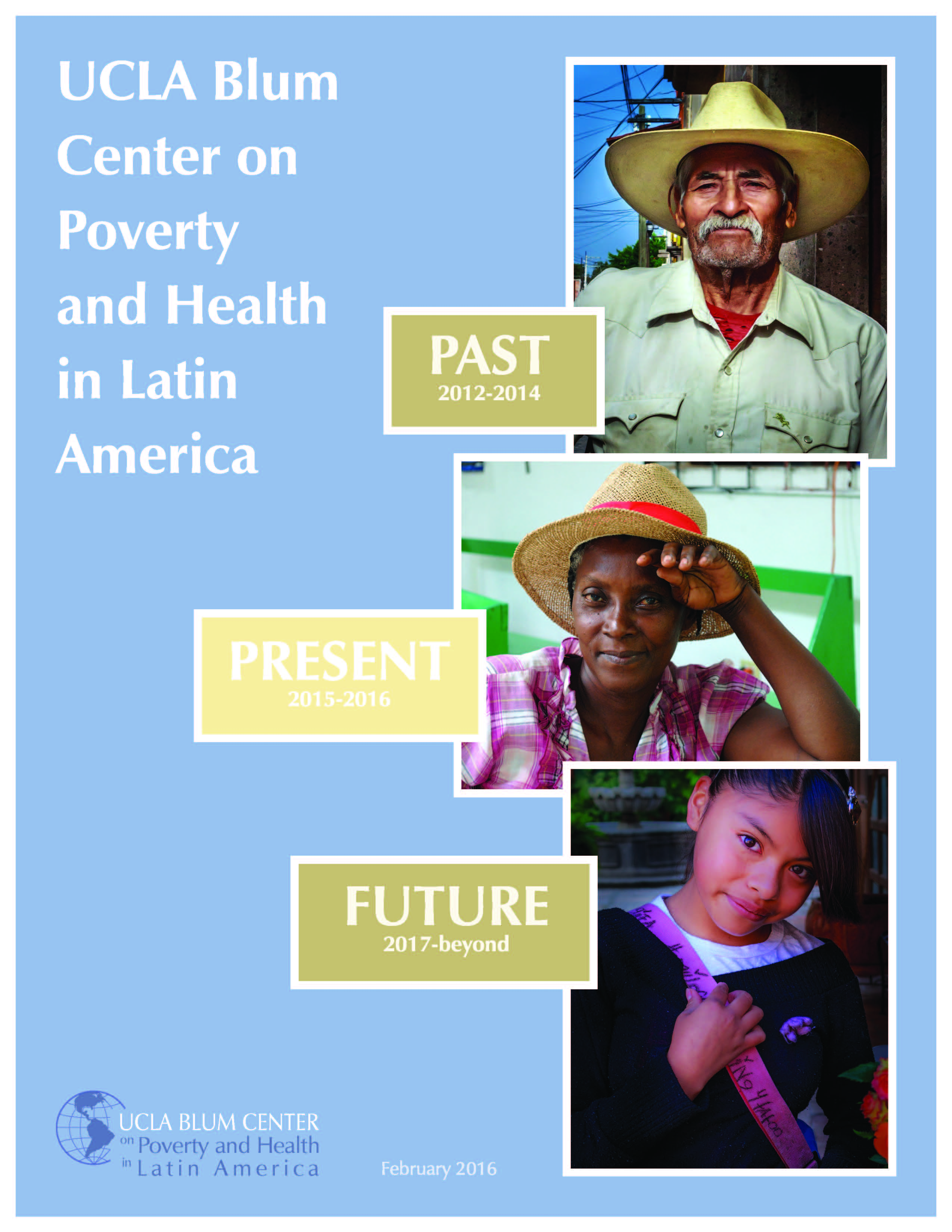 Check out our latest report, UCLA Blum Center on Poverty and Health in Latin America: Past, Present, Future, to find out more about the great work that has been done, what is currently being developed, and some upcoming opportunities.
The UCLA Blum Center on Poverty and Health in Latin America
analyzes the key factors that influence poverty and the social determinants of health including: government practices and policies, community action, social justice, human rights, race, ethnicity, socioeconomic status, religion, foreign policies and more. Within these pages, you will find information on The UCLA Blum Center's:
Join UCLA Blum Center: Become Part of Our Conversation
Like us on Facebook, leave a post of your own, and stay abreast of some of our daily activities. Or follow us on Twitter and retweet our posts to your followers.